Rescue Diver
PADI Rescue Diver is a course for certified divers looking forward to improving their scuba skills and learning how to manage emergency situations.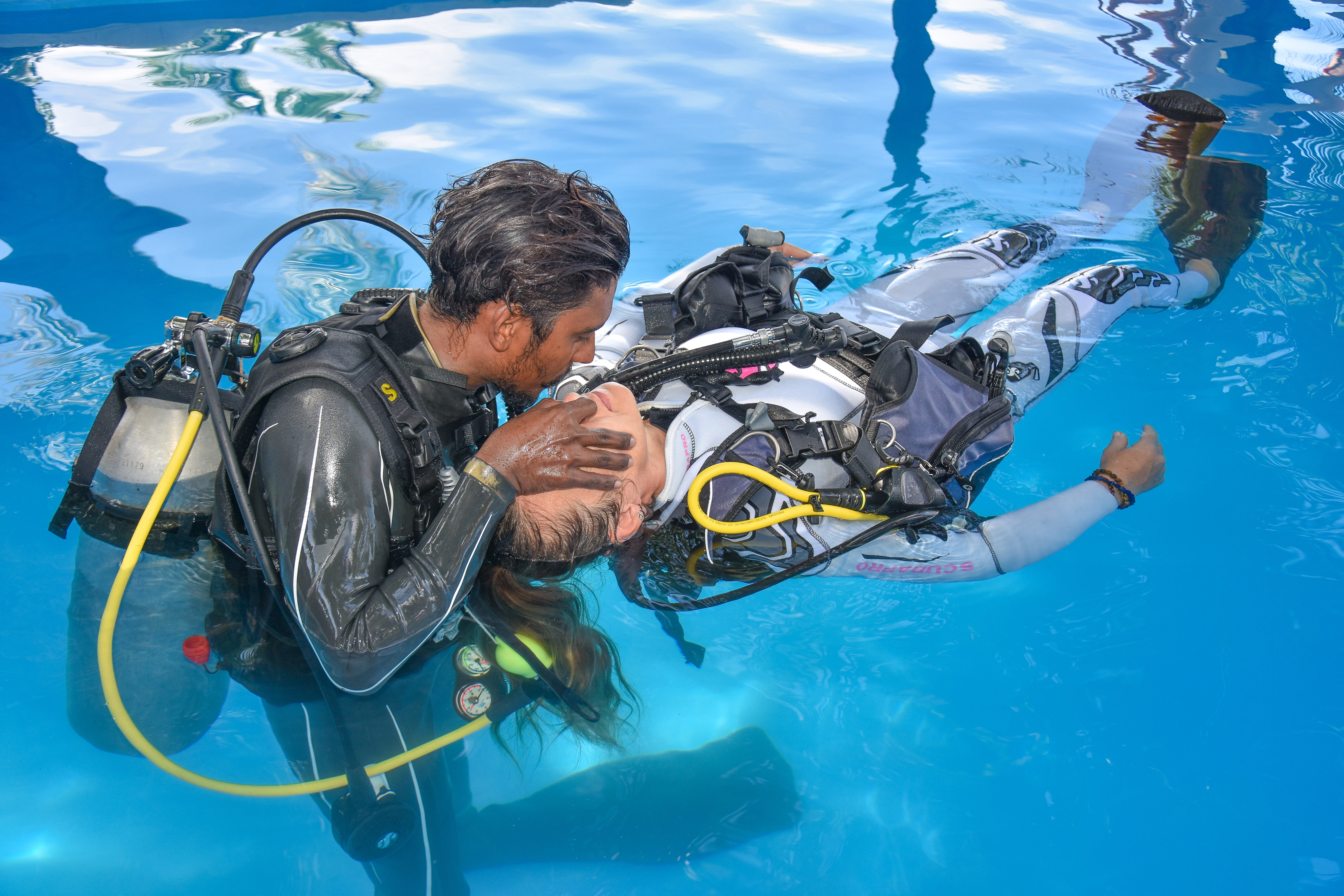 Rescue Diver
Your PADI Instructor will teach you how to identify, prevent and manage minor issues before they become problems. You'll practice handling scenarios as a leg cramp to a major issue like an unresponsive diver underwater by role-playing with other students and your Instructor. This course will change the way you dive and turn you into a more confident scuba diver capable of helping others.


The skills you'll gain in the course will prepare you to take the first step towards a dive career in order to enroll in the PADI Divemaster course and/or achieve the most elite rating in recreational diving by becoming a PADI Master Scuba Diver.
Your scuba diving training includes all the necessary scuba diving equipment, refreshments between dives and insurance.
The PADI Rescue Diver course consists of three phases:


Knowledge development (5 theoretical modules carried out through eLearning and emergency assistance plan preparation);
Confined water session (to practice self-rescue skills and get used to some of the skills you'll do in the open water session);
Open water session (10 rescue exercises and 2 rescue scenarios).
PADI eLearning time commitment: 8-12 hours


Entire course: 3 days
Recognize and manage stress in other divers
Rescue unresponsive and panicked divers
Fix minor gear issues
Use an emergency oxygen kit
Be a better dive buddy
Improve your navigation skills
Minimum age: 12 years or older (divers certified between the ages of 12-14 earn a Junior Rescue Diver certification and automatically become Rescue Divers at age 15);

Course prerequisites: Open Water Diver, Junior Open Water Diver, or qualifying entry-level certification may enroll in the PADI Rescue Diver course, complete Rescue Diver eLearning and participate in rescue exercises in confined water. To participate in open water rescue exercises and be certified as a PADI Rescue Diver, the student must complete the Underwater Navigation Adventure Dive and hold a PADI (Junior) Adventure Diver certification. A PADI (or another qualifying) Advanced Open Water Diver certification also meets this prerequisite. Certification also requires CPR and first aid training within the past 24 months. If you don't have this training, you can enroll in an Emergency First Response® (EFR) Primary Care (CPR) and Secondary Care (First Aid) course with your PADI Instructor;
Health prerequisites: medically fit for diving;

Depth: 0.
Frequently asked questions
Will I be able to help someone after the course?
Yes, because this course teaches you the methods and gives you the confidence to help someone. You will learn to adapt and react correctly to any situation, in diving and also in everyday life. You will learn that it is not essential to reproduce gestures and methods to perfection but dare to help and perhaps save someone's life.
As a Rescue Diver, what is my responsibility?
A Rescue Diver uses his training to intervene when a crisis arises during a recreational dive, to aid fellow divers if needed or to retrieve people or things underwater.