Discover Scuba Diving
PADI Discover Scuba Diving is the best program for those who have no experience with scuba diving and are looking for an introduction to exploring the underwater world.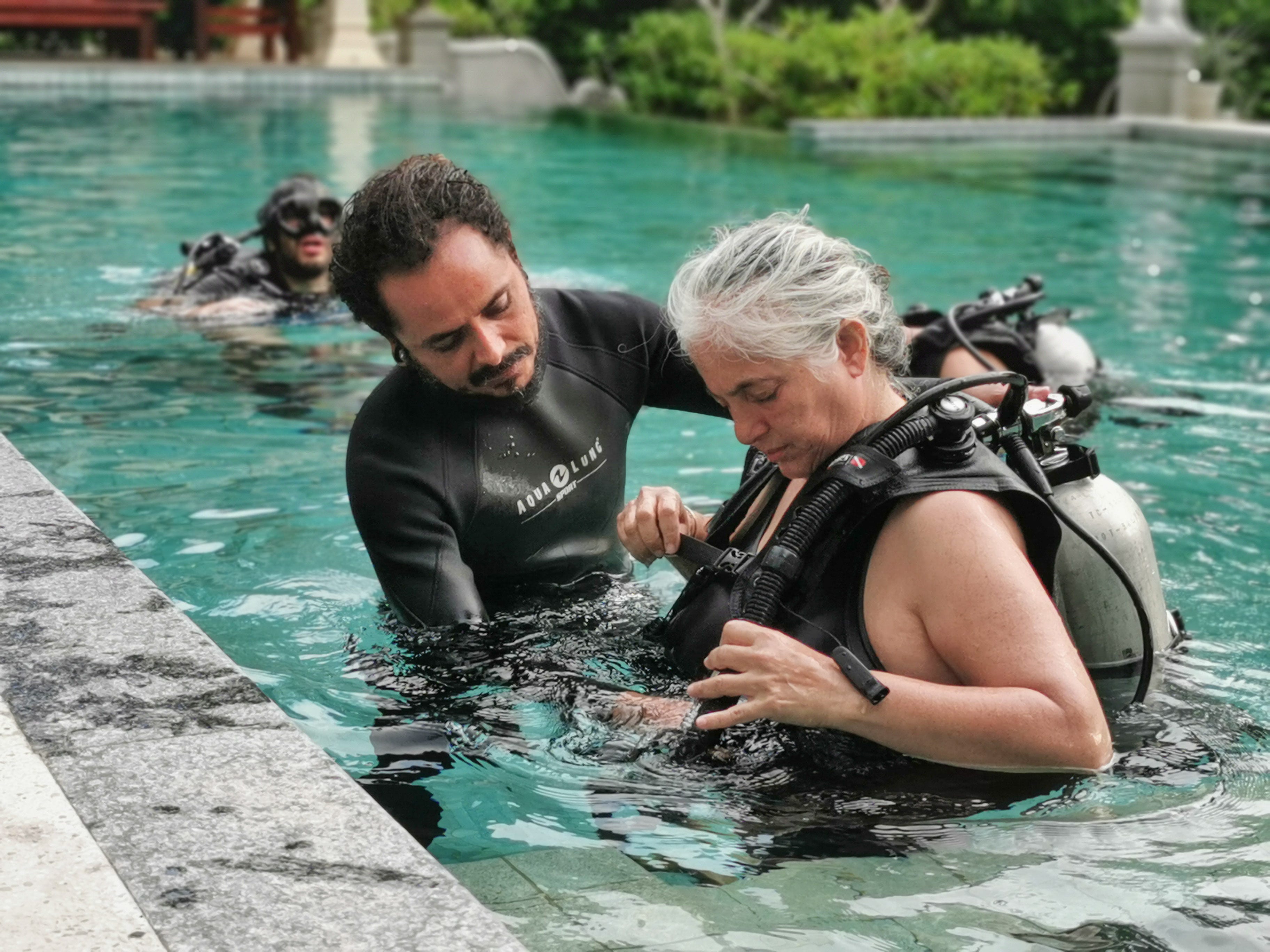 Discover Scuba Diving
You'll be trained under full supervision to get your first scuba diving experience while learning about scuba equipment and basic safety rules. Then, your PADI Instructor will take you on your first dive in the ocean! You won't get certified by the end of the program, but it will show you how much fun it is to scuba dive.


After completing the Discover Scuba Diving training, you can continue your education with the Open Water Diver Course and become an internationally recognized PADI-certified diver.
Your scuba diving training includes all the necessary scuba diving equipment, refreshments between dives and insurance.
The PADI Discover Scuba Diving program consists of three phases:
A theoretical session to introduce you to some basic skills and concepts about scuba diving equipment;
Confined water session to practice 5 exercises and get used to breathing underwater;
1 dive accompanied by your Instructor.
Follow easy safety guidelines
Use your scuba equipment
Breathe underwater
Master basics but essential scuba dive skills
Relax and enjoy your marine exploration
Minimum age: 10 years old;

Prerequisites: able to swim, medically fit for diving (chronic health problems, certain medications or recent surgery may require approval from a physician before diving), comfortable in the water;


Depth: expect shallow dives from 6m/20ft to maximum 12m/40ft.
Frequently asked questions
Is the Discover Scuba Diving program difficult?
The Discover Scuba Diving program is very easy. All the training is about making you relax in the water and having fun. You'll gain all the knowledge you need to avoid problems underwater.
Discovery dive: what to expect?
The PADI Discover Scuba Diving program is perfect if you are interested in trying scuba diving for a day. During your scuba diving for beginners program, your Instructor will explain everything you need to know about your scuba equipment, diving safety rules and underwater communication. If you enjoyed this program, it's time to book your Open Water Diver course with us!